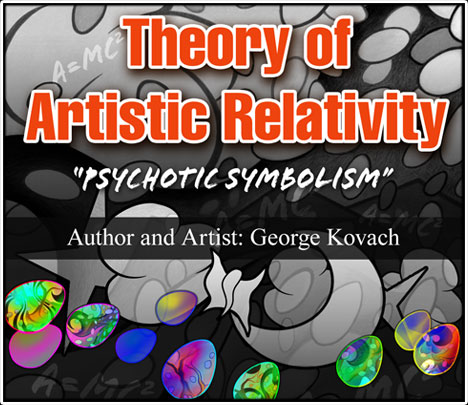 5. Section Four:

Condensed Version Of The Theory And Category As Copyrighted In 1985.
Jump to: Prelude | Part 1 | Part 2 | Psychotic Episodes
Excerpts From "The Psychotic World"
(Psychotic Episodes - Psychotic Parables)
PSYCHOTIC EPISODE NO. 105 "PSYCHOTIC NONCHALANCE"
Psychotic Trees, no foliage flaunts.
Bend and sway in Psychotic Nonchalance!
Yet moons desire what you inspire,
Soon to tire from ambivalence.
PSYCHOTIC EPISODE NO. 107 "EROTIC PSYCHOTIC"
Vie to be Erotic Psychotic,
See if thou be known exotic.
When Phallic Phlowers doth cast a spell,
Boat doth travel The Path of Hell.
But mind you all tis better to vie,
than never attain and wonder why.
Oh, the passion a Boat can feel,
from erotic psychotic exotic ordeals.




PSYCHOTIC EPISODE NO. 108 "PSYCHODELIC HELL"
One can tell Psychodelic Hell
Evident signs known all too well
Psychotic Trees block the breeze
Rootless world gives life disease
Time demands God commands
Oceans of boredom drown out dreamlands
No hope abides No truth decides
All Boats can do is sail out their rides




PSYCHOTIC EPISODE NO. 109 "A VOIDING GRAVE"
It has been said that those who are dead
shant play the game anymore
While those who are dead probably have said
"We find it rather a bore"
But in the grave the wise behave out of fear
The insane are insane again
and normals fade
from knowing nothing of worth.
Only a Psychotic Boat instinctively returns to life!




PSYCHOTIC EPISODE NO. 110 "THE PSYCHOTIC NIGHT"
The dew in the morning
is the tears of the night.
A night that cried for someone to love
It's cold dark emptiness, it's void sky.
Yet giving moods pleasing to none
endless time waiting for sun
Covering lands by blankets of black
hiding trails front and back
A night that tortures by making one sleep
and dream of worlds that never exist.
But Oh Psychotic Night, you shall be loved!
for there are those who acknowledge
the forces of darkness
and find delight in its sins.




PSYCHOTIC EPISODE NO. 111 "THE PSYCHOTIC DIMINITUDE"
Cast into the void an earthly spell
Here is the land where we shall dwell
The life on shore is what to abhor.
With visions impaired by vistas shared
Small world unfurled, confoundedly scared
One will find no infinitude in The Psychotic Diminitude.
So sail away from all dismay!
Strip life down to its own nakedness
Feast death and balk at the gods
Laugh at time as you retaliate the odds
Leave the shelters of helter skelters
Captain your own Boat and escape.




PSYCHOTIC EPISODE NO. 112 "PSYCHOANIMALISTICS"
Beings Psychoanimalistic,
You are far from anything mystic.
Come to this earth from vile birth,
You really have no exact worth.
In the mind of a relentless kind,
Your imprudent fame generates pain
Just part of a game that all should disdain
Your creation a shame and presence profane
The Gods are to blame for their moment of wane.
Were not for a flaw in your design, to which one can malign,
Luck has'it you are capable of dying.




PSYCHOTIC EPISODE NO. 113 "A GRAVE ATTITUDE"
Along the boulevard of plots
There are many calm spots
It's a grave solitude.
All of Life returns to dust
Countless souls in Deaths trust
It's a grave multitude.
Abide eternally in heavenly bliss
For worldly evils that we miss
It's a grave gratitude.
A spell that should be broken
By Psychotic Trees outspoken
Those who judge the sins we earn
Show them the way to Hell to burn
The only way that souls should head
Is to leave the cities of the dead
Don't rest in peace, demand new life
It's a grave attitude.




PSYCHOTIC EPISODE NO. 114 "NEURALGIA"
In the Land of Plenty
There are no wants
But in the Land of Nothing
Plenty haunts
With evolutions of egotistical flaunts
And wisdom tempted by Psychotic taunts.
Gods placed The Boat on a devoid ocean
Gave it sails but no wind for motion.
Whatever could be their conceptual notion
To douse the land with neurotic potion.
The rain is therefore tearing down
For those who bear an earthly crown
Since The Shadows of Death cannot cast their form
On souls that must be perpetually born




PSYCHOTIC EPISODE NO. 115 "THE NAYSAYER"
And on Judgement Day the Gods did manage to ask;
"Did'st Thou believe?"
"Nay say I, for there was no help
coming from a sky."
"Did'st Thou love?"
"Nay say I, for the loss of love
would make'th one cry."
"Did'st Thou hate?"
"Nay say I, for my level of hate
could rnake'th one die."
"Did'st Thou war?"
"Nay say I, for there was no fight
worth the vie."
"Did'st Thou lust?"
"Nay say I, for all desires
were surely wry."
"Did'st Thou indulge?"
"Nay say I, for there were no sins
that could satisfy."
"Did'st Thou repent?"
"Nay say I, for the greatest of evils
I did not try."
"Did'st Thou pray?"
"Nay say I, for the graces of Gods
I did not wish to pry."
And in final abjection the Gods did say;
"Who art thou soul that ever say nay?"
"Tis The Psychotic Boat, the ship of distress
from this lawless soul one does not get a yes.
I cannot be judged as thee can tell
too bad for heaven too good for hell.
But the Gods to render and answer why
in their plan Boats must die.
Thou hast sinned in an inherent way
when I must have life and thee say nay!"




PSYCHOTIC EPISODE NO. 116 "THE SEX HEX"
In the reverie of reality,
the sex hex is the ultimate vex.
From intercourse discourse, all is remorse.
Sounding sirens of imprisoned instincts
the plague of frustrations
persuades subsistent relations
until the vasectomy of desire
leaves one odious to the fire
Psychotic Trees, when you entwine your branches,
love will not nest in your limbs
there will be no propriety with variety
and you shall only be orgasmic
with the rape of fantasy.




PSYCHOTIC EPISODE NO. 117 "EGO WHOREDOM"
Psychotic Trees, forever idolatrize
the disparity in your ranks
since thee will never comprehend
that the ultimate imperator is
merely replications of
endless infatuations of
false expectations of
tormented situations of
earthly limitations of
dreamy excitations of
deviant reputations of
satanic inclinations
One's true self is the embellishment of aspirations.



PSYCHOTIC PARABLE NO. 118 "IMAGINAL STARS"
AND SO IT CAME TO PASS
that Imaginal Stars perpetrated the daytime skies.
Unlike kinships of the night,
reflections mingle placidly with sun,
indistinct to random minds.
But to Psychotic Stargazers,
they become haunting constellations of souls
in damnable domains of delirium,
with formations foreboding invisible insanity.
THEREFORE, LET IT BE KNOWN
The Boat that navigates by Imaginal Stars
steers a course of lost at sea.
PSYCHOTIC PARABLE NO. 119 "VELVETEEN DREAM"
AND SO IT CAME TO PASS
that a mind formulated a fantasy
with velveteen substance
The Faith Cure
was a fond hope for the imagination,
a sequence of sensations,
a dream full of egotistical yearnings.
But the dream was awakened
before it could jeopardize
the eminent domain of reality.
Psychotic Beings were then forced
to brace against the current of life
and accept their fates to the bitter end.
THEREFORE, LET IT BE KNOWN
A dream is but a howl in the wind
while existence is the force of the storm.
PSYCHOTIC EPISODE NO. 120 "REMORSE REQUIEM"
Though not a cloud
skies do not appear
Where upon broods of besot beings
conduct a foolery of fear.
In courses of life
ill natured asylums of strife
Lies the world's most pretentious giving
liasons of languished living.
Thus hail with dauntless incantation
our instantaneous damnation
Behold the incipiency of incarnation
a criminated secular inauguration.
The cure is the lure of what we can endure.



PSYCHOTIC PARABLE NO. 121 "MYSTIC DURATION"
AND SO IT CAME TO PASS
that the concept of unlimited duration
was inflicted upon the chaotic scheme.
Its measurement induced
the creation of circumstances,
the need for memories,
and the passing of accelerated worlds.
Those conceived in The Psychotic World
were never able to commandeer endless love
since there was never enough time
to appropriate time
while eternity imposed too many stages.
THEREFORE, LET IT BE KNOWN
the realm of time is limitless
but the time realm has its limitations.
PSYCHOTIC PARABLE NO. 122 "NEGATE SYNDROME"
AND SO IT CAME TO PASS
that The Psychotic World
unfolded into a genocide
of unvarying contrivances.
Psychotic Trees overspread the region
with nescient leafage.
Romantic Moons abundantly formed nebulous chasms
in inanimate skies.
With the intervention of continuances,
death was the forthcoming end of experiences.
The Psychotic World then became
malevolent and rancorous with negativity.
Despair became a way of life
and future hope was merely
an anthem of depression.
THEREFORE, LET IT BE KNOWN
what is negated will come to be hated
and what is divine will be negated in time.
PSYCHOTIC EPISODE NO. 123 "LOVE BEGONE"
Impellant wishes behest Gods above
beckoning brief wisps of love
But love begone, far beyond
the extent of the choices
the utterances of the voices
With departure steadily in the making
Love is a dismal undertaking
the futility of the caring
the inequity of the sharing
Makes love begone, something fond
Depravation and vile of passionate plays
endangers life's rational ways
As the fruits of sexual delights veer rotten
Love begotten, is best forgotten



PSYCHOTIC PARABLE NO. 125 "SEXUAL DYSPHORIA"
AND SO IT CAME TO PASS
that The Boat sailed into The Psychotic World
to seek a venerated lovelorn.
Scouring the populace of the infamous legions,
it encountered a world sated in sexual dysphoria.
Psychotic Trees could not graft romantic fantasies
for they held to the belief
that love was an ambulant mirage.
Only logic dictated to The Boat
that a deep and tender feeling of devotion
must have spiritual consent. -
THEREFORE, LET IT BE KNOWN
for the splendor of love
one must dare gods above
for a gift of compassionate compassion.
PSYCHOTIC PARABLE NO. 124 "IMPERIOUS IMPERIUM"
AND SO IT CAME TO PASS
that a flagrant sun
powered over the infinite ineptitude.
Its rule was one of inescapable inertial guidance,
disseminating radiance for entrancement
into a morbific state of excathedra.
Thicksets of Psychotic Trees
bewilderingly heeded the imperil
of supernatural governance without inquisition
regarding the existential actuality of demi-gods.
They became dominated by the mere thought
that life can be controlled.
THEREFORE, LET IT BE KNOWN
the destiny of despotic sovereignty
is apathy godforsaken.
PSYCHOTIC PARABLE NO. 126 "SYMBOL PHYLUM"
AND SO IT CAME TO PASS
that amalgamations of symbol logic
constructed The Psychotic World.
Characterized by harmonious compositions,
elucidations of permissible operations
existed as coincidental life.
A fool's paradise gradually unfolded
as representations of matter
disclosed the peerage of the damned.
Though a quadrillion times farthest,
afterworlds were unjustly reflected upon
as only subordinate isles of seclusions.
THEREFORE, LET IT BE KNOWN
the physical feel is a token deal,
but it is life after death that needs personification.
PSYCHOTIC PARABLE NO. 127 "HELL EVANGEL"
AND SO IT CAME TO PASS
that all of Psychotic Life
was placed in a hallucinatory world
of uninterpretable knowledge.
The exactness of what was intended to be
passed swiftly and suddenly,
realized only for an instant
but long enough for the angelic feelings of hell
to be comprehend into the Psychotic Dimension.
As the search for intention uprooted Psychotic Trees,
the answers inhabited the inception of permanent ending.
THEREFORE, LET IT BE KNOWN
the probability of dying exonerates all trying,
subsuming the activities of this given setting.
PSYCHOTIC PARABLE NO. 128 "THE MELANCHOLY"
AND SO IT CAME TO PASS
that a sense emergence
evoked from The Psychotic World's
disordered state of nervosity.
Mournful outbursts of qualm
betook advantageous cults
as the realization of discouraging influences
condemned enthusiastic seduction.
Psychotic Trees became listless symmetrical characters
in the dreams of gods
who turned their own creations
into the melancholy unadorned.
The abundant forest populate
dispelled any surmounting ambitions of allegorical life.
THEREFORE, LET IT BE KNOWN
the denature of nature
is caused by reliance on compliance
instead of defiance.
PSYCHOTIC EPISODE NO. 129 "ERRATIC EMPHATIC"
If thee consent what cometh thy way
Enter thou unto the embay of dismay
Banished there dwell forever do stay
Heedest to wishes of those thee obey
Bequeath us upon the need aristocratic
Why reason bestow life full ludicrous static
Who dare turneth from such with strength emphatic
Tis only an emulous cunning erratic
Chasing uncatchables yet capturing what able
His madness finds method no query can label
But a finite known thought keepest him most stable
Erratic Emphatic nay believeth his fable
PSYCHOTIC PARABLE NO. 130 "THE THIRD CONCEPT"
AND SO IT CAME TO PASS
that beings of The Psychotic World
thought that the choice
was only between two pretentious death realms.
All of Psychotic Life
existed for the sake of dying.
Unhesitant urges to be spiritually practical
Appeared obvious for soul survival.
But the readily imaginative
conceptualized beyond the two pretentious death realms.
They lived as differently as they pleased
since their thoughts were visionary divertissements
that would have to be attoned for
with only themselves.
They mentally created their own alternative.
THEREFORE, LET IT BE KNOWN
the capability of implying is actuality not belying,
hence father thyself in preparation for everything conceivable.
PSYCHOTIC EPISODE NO. 131 "ULTRA NOTION"
As somber feelings were set in motion
Taken from a sullen mood devotion
Came an extravagant, vagary, ultra notion.
A disheartening thought from absent thrill
Bred by the swiftness of a ceding will
Was then in the mind that time stood still.
The moment grew eternal as death did appear
Maneuvers of sin drew a consequence of fear
No sense of it all deemed a laugh and a tear.
An ordeal so grueling to be in favor select
Yet passing by Gods of those not elect
Who is to judge what is to reject.
And at that end when all this transpired
There will be no meaning of anything desired
Makes wondering if life is truly required.


PSYCHOTIC PARABLE NO. 132 "THE PEDANT TREE"
AND SO IT CAME TO PASS
that Psychotic Trees
put on an ostentatious display of undue logic.
They insisted upon an exact adherence
to a set of arbitrary rules
and arduous routines.
Their sacrosanct of utmost life
was The Pedant Tree.
Impavid to the cults of feeble restraints,
this tree blossomed with variable discretion.
It become a magnified representation
of redoubtable existence
upbringing insurmountable desire
on those who seeked self-identity
through psychotic status.
THEREFORE, LET IT BE KNOWN
there is no time for conceited demands
for the perspectives of life
are only interplays between deaths.
PSYCHOTIC PARABLE NO. 133 "ELYSIUM ASYLUM"
AND SO IT CAME TO PASS
that those from the plain of the departed
left death for life
in hope of finding an alter ego
yearned in a previous being.
It was a parody of an ideal bliss
known as Elysium Asylum.
As souls entered the present realm,
their numbers increased to a tragedy of obscuration,
for there was not enough reality
for the continuous expanse of the imagination.
This sanctuary temple of refuge
became an existence of non-existence
as souls reluctantly ceded again
to death over conformity.
THEREFORE, LET IT BE KNOWN
one is what one is allowed to be,
while one's allowance is what happens to occur.
PSYCHOTIC PARABLE NO. 134 "THE ENNUI OF ENTITY"
AND SO IT CAME TO PASS
that maintaining allegiance to Psychotic Life
dramatized an indefeasible deception.
The fantasy contained massive urges
never fulfilled in the objectively actual.
Nothing begotten was genuine
while enthusiasm glistened with indifference
in wonderment of what could have been.
To the satisfaction of the questions asked,
the answers became
a sudden drop from the dignified
a disappointing contrast
to the rises of dreams.
Psychotic Trees had to withstand
the coldblooded breeze
and redact their ego worships
to fortuitous subcultures of ennui.
THEREFORE, LET IT BE KNOWN
as time evolves, the will dissolves
and damnation becomes a reward
for the intellect.
PSYCHOTIC EPISODE NO. 135 "THE FROLIC OF THE DIABOLIC"
It comes with no rarity dispairity
this dreamless dreamland
not sharply defined, misty, and vague.
An anion world absorbed in an absence of cause,
like a sway through darkness.
A place of not what minds expected
Quite conversely, what Gods neglected
The constitution best be rejected
as the frolic was diabolic.
There were tales of glamorous excitement
but none was had
for ignoble, not noble, was the birth of the ordinary.
Uncertainty stirred members into futile movements,
Like whirling away in the dance of death.
A matter of course, all played in a trance
Basing their lives on a bit of romance
Yet succumbing arousals at the opportune chance
as it was diabolic to frolic.
They followed the fallacy of irrelevant conclusions
in preparation of eternal life
while disturbances of the mind actually appealed to the emotions.
Reality was a formality until the killing,
like a disappointing contrast to a preceding rise.
A wrath of ire for the rending
Of first alive and then an ending
To frolic as souls from a diabolical sending
as is the frolic of the diabolic.
So engage the folly by stakes and gambles
ravishing the hours spent in time
with the courage that permits one to patiently endure.
And be bewitching over any guiding spirit or influence,
like a bellicose demon that gets revenge.
PSYCHOTIC EPISODE NO. 136 "HALLOW DARKNESS"
HALLOW DARKNESS
world so fond
A setting of wonderlust
for those beyond
Perceived in madness
Preserved in sadness
To you we respond.
HALLOW DARKNESS
world unkind
Into a dying mood
insanely designed
Expecting all madness
Accepting all sadness
Inside of our minds.
HALLOW DARKNESS
world so blue
Depressive by nature
how could we yearn you
To favor the madness
To savor the sadness
Must be evil so true.
BUT HALLOW DARKNESS
world so stark
You have not left some
in the dark
Because of madness
Because of sadness
Life's so much a lark!



PSYCHOTIC EPISODE NO. 137 "THE BLESSED LOVE OF FUNERAL FLOWERS"
The blessed love of funeral flowers
beseech the Gods and all their powers.
They ornate the way for the soul that cowers.
Tis the task of funeral flowers.
The blessed love of funeral flowers
lend beauty in the darkest hours.
They are icons to the ego that towers.
Tis the task of funeral flowers.

The blessed love of funeral flowers
bring warmth amidst the coldest showers.
They offer sweetness to all earthly sours.
Tis the task of funeral flowers.

And in the end when they appear
to exonerate a life some seemed so dear,
they comfort hearts that shed a tear
and solace those who live in fear.

But I tell you something I surely know,
funeral flowers only put on a show,
for there is no task that they can bestow
when death presides and a life must go.